Tag Archives:
blogging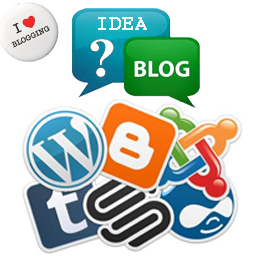 If you're a writer who can string words together and express ideas that are interesting or entertaining, there's a very good chance you'll be able to rule the Internet by becoming a blogger. Before you begin your quest for domination, you should make sure you have a good understanding of what you need to do and what you should avoid. Luckily for you, we have a list of advice and tips that will help you rule the Internet with your words.
Tips for Bloggers who Want to Get Huge
Here are some specific tips for bloggers who want to go all the way and become super popular A List bloggers online.
Tweak Your Blog – Whether you use WordPress, Drupal or something else entirely, if you want to be a blogging star, you're going to need to have a good website. This means understanding your target audience and what they're going to want from your blog. The good news is that it's never been easier to set something up online that looks great and works well too.

Be Social – Writing a blog post or article is fine on its own, but if you really want to take over the Internet, you're going to need to get social. This means posting to Facebook, Twitter, Google+ and other places. Just make sure you're not automating the posting because this can really turn off potential readers, fans or followers. Take the time to come up with good reasons they should check out your content.

The SEO and online marketing world has evolved beyond recognition. The practices that once took websites to the top of search engines are now making them being blacklisted by the same search engines. This is mainly because of the shift in focus of the search engines. Google doesn't really care how many hours in a day you spend to get back links for your website. They cater to people who are looking for specific information. If you are capable to give them valuable information while complying with their guidelines, you need not worry.
The latest war has been between the traditional SEO techniques and content and apparently content is emerging as the clear winner. This however does not mean that SEO is entirely wiped out. It still exists and it still does work for a number of websites. Nevertheless, depending on your goals for your website, content weighs strong against link building, in terms of long-term benefits for the traffic to your website.
Here are a few reasons why content is the new king-
It hits where it affects the most- Good content reaches the audience directly. Whereas. In link building, you insert your link even where it won't be very welcome. With content, you get to publish your link in the most natural way. In addition, if your content or blog is shared on social networking sites, the people are sharing it willingly.