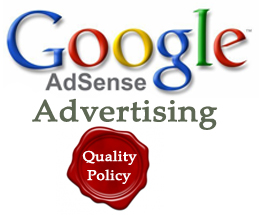 Whether you like it or not, the abuser over Adsense has always been the part of the game. Hence you will see Google carrying out a number of preventive measurements to counter these abuses like monitoring Adsense network, hammering different offenders by banning them for any big violation along with keeping an eye over people who commit small and trivial mistakes. You see Google updating its Adsense advertising policies to curb a number of abuses, which comes both as intentional and unintentional from different people. Similarly, last month Google was seen updating the Adsense advertising policies, whether it's good or bad, let's check out the debate, which it has created among the people who use Adsense programs to make money.
The latest Google Adsense advertising policies
Before you look at the good or the bad about the latest Google Adsense advertising policies, let's check what is this update all about? Last month somewhere in the first week of December 2012, Google was seen releasing a really big ad format of 300 by 600 for the Adsense program users. As per Google, the newly introduced ad format by the giant search engine is pretty brand friendly and is therefore called by the company as a half page unit.
If you look at the words of Google, which it has used to describe this update, it says that this newly introduced ad format is bigger than all the other ad units by the company. Google simply want to see a right balance between the content and the various ads coming across a number of publisher websites. It further says that the publishers would now be allowed to put an advertisement of 300 by 600 ad unit on each and every page of the ad publishing website.
In case, if the ad put over your site exceeds beyond the one 300 by 600 ad per web page unit over your website, the company demands to remove all the additional units. Google has given the deadline for this removal till 10th of January 2013. The company is also sending out email notifications, to different publishers, who according to Google have violated this newly introduced policy update of Adsense program. Obviously, people failing to do so are going to face the wrath of the giant search engines.
The good or the bad about the latest Google Adsense advertising policies
If you think in terms of a typical marketer, who simply wants to make money then this update is certainly not a good thing as it restricts the number of ads to be put over the ad publishing sites. Looking at the other side, there are many benefits attached to this newly introduced updates from Google. As per experts, if you add 300 by 600 size ads over your website, it is certainly going to improve the Click through rate (CTR) to a great extent and thus giving you more number of opportunities to make money. However, most of the experts do not recommend using such a huge ad slot since it is going to hamper the user friendly experience.
Final word
As per Google, with this update, the company wants to develop better and new sizes, which could give a better user friendly experience to different people coming to your site. The fact of the matter is Google simply hate the publishers plastering so many ads all over their web pages and thus coming out with such an update is quite inevitable.
About Contributor: Brianne is a blogger by profession. She loves writing travelling and reading books. She contributes to Antonio Juan Marcos Issa