As digital marketers, it is critical to stay ahead of the game. Some marketers would resort to implementing gray to black hat techniques to do just that. What an unfortunate reality! Let's give it to those SEOs who are not aware that what they're doing is wrong. However, there is no excuse for those who are deliberately committing these black hat techniques. Even those who aren't deliberately doing it cannot excuse themselves ignorant of such.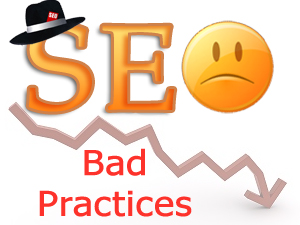 What you don't know won't kill you, but, at times, it is worth knowing the tactics that will get you killed. Here they are.
1) Over-optimizing internal and inbound links
Internal linking is fundamental to spreading the link equity across the site. However, some of us tend to over-optimize the links through the use of keyword-rich anchor texts. Put simply, never force a keyword or keyword phrase as your anchors. Just make them as descriptive and natural as possible. Do the same for those inbound links that you have direct control of such as your author's bio on guest posts and press releases. Make sure that the anchor text makes sense to the readers instead of using a keyword that you obviously want to rank for.
2) Manual article spinning
Manual spinning is no different from automated article spinning; they both involved creating another version of the content to be published as an original content. That's very far from the truth. Manual article spinners simply take an existing content, change a few words in the title and in the content, change the format slightly and publish it as their own. Google also took note of these spun articles as duplicate contents. If you are doing this then, you may be penalized by Google eventually. If you can, pay for 100% original, informative contents. It won't be expensive if you are going to look at it from a penalty-avoiding perspective.
3) Spamming the footer links
Placing a footer is fine if you mean to help your visitors in navigating throughout the site. Nevertheless, what's not okay is using a footer filled with links geared toward capturing rankings than providing a good UX (user experience). Experts say that if you are using your footer for the sole purpose of raking in rankings, you might as well remove it. It's a form of abuse that will not do your website any good especially if you are putting external links on it.
4) Comment spamming
There are paid comment spammers and then they are hardcore comment spammers who use a software in leaving links in the comment section of various blogs. Some people do comment spamming so they can easily generate volumes of backlinks in the shortest possible time. Put simply, these backlinks can instantly amp up the ranking. One problem with these links, however, is they do not provide your site any real value. Thus, if you are paying someone to do this for you, stop. Invest on white hat tactics and not on these types of links. Also, Google algorithms are getting more sophisticated with each update and they can instantly spot such links, making your site a good candidate for a penalty.
5) Creating web rings
A web ring refers to a collection of websites, usually blogs, that are linked together. These sites often conform to a specific theme. For example, you have a real estate web ring with one site dedicated to mortgage, another site to home insurance, another to home design and decoration, and so on. A web ring is not necessarily a bad thing. However, it gets ugly when you treat the web ring as a link scheme, increasing rankings through excessively linking to one another.
Apparently, the SEO tactics listed here are common tactics and all can get your website penalized by Google. These tactics are not only potentially damaging to your rankings and traffic, but more importantly, to your reputation. That's too much risk on your part, so don't do it. Be the digital marketer that you are expected to be – a white hat SEO evangelist!