Although there is often talk about the 'rules' or 'fundamentals' of SEO, the simple fact of the matter is that SEO is constantly changing. The underlying algorithms that Google and other search engines use to rank websites are periodically modified.
To keep up with SEO, you need to stay informed – and one of the best ways to do so is by following the webinars hosted by SEO experts. Odds are you may have already seen a couple of these, and may have realized that the one thing standing in your way of watching more is the fact that most webinars are streamed live, and can't be saved for offline viewing.
Rather than letting that stand in your way, there are two alternatives that you can pursue that will let you conveniently keep up with SEO through webinars:
Recording webinars to watch later
Although there may not be a link where you can save or download the footage from webinars – why not just record it yourself. To do so you'll need the help of screen capture software that will let you record the webinar directly from your screen while it is playing.

Once you have recorded the webinar, you can save it as a video on your PC and watch it at your leisure. Needless to say, recording numerous webinars may gradually eat into your storage space – so be prepared.

Recording the audio from webinars
If you would rather not record the entire video, recording only the audio stream for a webinar is another option worth pursuing. The advantage of this option is twofold: Firstly storing webinars as audio files will consume less storage space on your PC, and secondly you could transfer it over to your MP3 player or smartphone and listen to it wherever you are.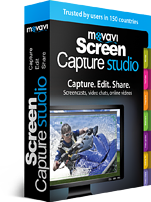 Depending on your circumstances you may find that the latter option ends up being much more convenient. In either case, you should definitely look into the Movavi Screen Capture Studio – which can be used either as screen capture software, or as a streaming audio recorder. It also comes with numerous other features that will allow you to edit and save your video or audio with ease – due to its intuitive, user-friendly interface. Try it out for yourself and you'll see that even if you have no experience it won't take long to learn how to use it.