Social media is extensively growing in every field, whether it is business, marketing, healthcare or education etc. there are number of social networks that allow you to stay connected with each other in many ways. Social media websites have millions of active users who regularly use social media. However, excess of everything may harm a person and so social media. With number of benefits, social media also has number of negative effects for a person.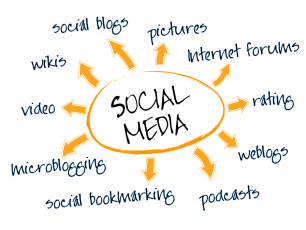 Pros of Social Media in Education
Students may get benefit from the social media as some social media websites have discussion forums and communities where students can discuss their doubts about some queries. They can talk to each other and share their views about a specific topic or they can also upload solution of a query that everyone is looking for.

Students may gain knowledge by reading general awareness and latest news provided on the social networking websites.

Some of the social networking sites provide video tutorials on specific subjects so that student could watch it to study for specific subjects.

Students can get study notes on the many social networking sites that they can read for preparation of examinations.

Students get information related to various government job examinations, banking job exams and other job related exams. They can even download sample papers and previous year papers from social media sites to prepare for exams.  
Cons of Social Media in Education
Some of the students get so much addicted to look for information on social media that they lose learning abilities to solve queries manually.

It has been found that many students while studying online on social media often use other social media websites such as Facebook, Instagram, etc. side by side. This leads to reduce their concentration power on studies causing distraction in studies.

Students prefer more to interact with people on social media to ask for doubts in study. This affects them in a way that they are not able to socialize with persons they meet physically. They start avoiding face-to-face communication.

Nowadays, there are number of software, which provide spell check and grammar check while writing notes. So, students who write notes in such software might lack towards learning proper spellings and grammar as they ignore the spelling mistakes they do while writing.

It has also been found that some of the students while discussing on forum about some query starts getting close to each other without even knowing each other. This may harm a person if the other person misuses of such friendship.
Well these were some of the pros and cons that social media has when it comes to the education vertical. When we talk about the society in general, social media takes a completely different approach, both in negative as well as positive manner. You can know some of the advantages and disadvantages of social media in a society and adopt ways to make sure that you have a healthy experience with social media.