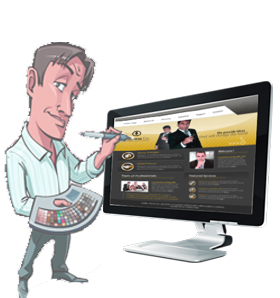 Whenever you want to do something, you surely might be devising a checklist that would help you do the things right and make sure you don't miss out on anything. If you apply the same principle to designing a business website, you would have the perfect business website within no time. You could consider contacting experts such as Expedition Co. to help you set up the website in no time! Before you get on with a business website though, remember that the website would serve as an image of your company on the World Wide Web. How to you garner the target audience and what kind of audience you attract will be a decisive factor in how you fare in your online business. To get the best out of your website, you might want to contact an eCommerce Agency that could curate the best site to carry out your business endeavors.
Domain: Search engines like Google do not list websites based on domain name. Your domain name will not get you featured on the SERPs, but the keywords you use in the meta tag information or the content on your website will. This also includes the Header or Heading tags that help search engines to rank your website. Make sure you include only your most relevant keyword in the tag as you don't have much character space for all of them.
Images: Search engines do not recognize images but they surely recognize the Alt text that comes along with it. So, whenever you insert any image in your website you can make it search engine friendly by adding some relevant, descriptive content that would not only make the image comprehensible but also enable the search engine to spot the relevant image whenever a search is carried out.
Pop-ups: Do you like pop-ups? It's rare anybody does. Pop-ups are a total turn-off, especially the hidden ones which just start springing up from nowhere. Refrain from using any pop-ups in your sites as the visitors would immediately lose interest in your site and head for your competitors site.
Content: You need to include relevant content on your site. But for this please do not resort to copying content from other sites just to perk up your chances of being featured on the SERPs. By copying content and copyrighted content you merely blacklist yourself from sites like Google which is lately blacklisting sites that use black hat tactics to get featured on SERPs. Hire a SEO content write to write your content and you will up your chances thanks to the genuine, relevant content that is being featured on your site.
Sitemap: Numerous websites these days are devoid of sitemap, a page which is necessary for almost every site, considering the vastness of the site and the fact that visitors might actually lose their way among the various pages and not find the product or service page they are actually looking for.
Speed: A dormant aspect of your website is the speed at which the website and the various pages load. Of late, the Google search engine has started keeping a watch on this too for rating any website. If you too wish to maximize your chances of being featured on the SERPs, you must consider images which are not too heavy and lesser scripts.
If you also have some more design ideas for business website, and need help to explore your invention or design ideas, Idea Design Studio is best option for you. Idea Design Studio is a product development firm that specializes in top-of-the-line design work for inventors. If you have any question on how to get invention help just contact Idea Design Studio.
About Contributor: Sunny Popali is SEO Director at .http://www.tempocreative.com/, Tempo has pioneered a trouble-free process for clients to achieve a high-impact, impressive web site built for maximum ROI.