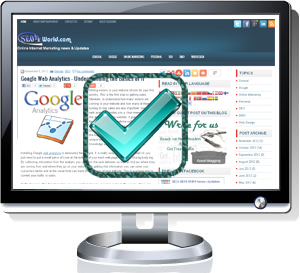 Anyone can put together a website for everyone to see. However, there are a few basic keys that will help your website become successful, and quite possibly, making money. Simply putting content on your site and hoping for the best doesn't bring in the visitors that you would like to see. What can you do to make sure your site is a success?
1. Design – Whether you're coding your site by hand or using a content management system such as Joomla or WordPress, you need to have a good color scheme. Colors to match your niche are ideal as it gives visitors a way to relate to the content. You also want to stay away from putting too many images, buttons, and flashing .gifs. It can become distracting and visitors will leave.
2. Content – Within your text, your keywords are how search engines rank your site. You don't want to stuff keywords so tightly that it doesn't read well, but you want to have enough of them for the search engines to properly categorize your page.
3. Sitemap – The sitemap is a very important piece to having your website crawled by search engines. All your pages should be linked to the sitemap, which can be submitted to engines like Google Webmaster Tools. This will help your site get crawled on a regular basis.
4. Google Analytics – With the Google Analytics tool, you can track which content is read the most as well as demographic data. This can help you determine what course of action to take for future content.
5. Google Adsense – As long as you are continually adding content, you might as well capitalize on the potential for ad revenue. Google will pay you each time an Adsense ad is clicked on from your website.
6. Affiliate Advertising – As you develop content for your website, there could be a possibility for earning a few dollars with affiliate advertising. This is where advertisers will pay you per sale if someone clicks on a banner from your website to their online store. It's much like Adsense, except you only make money if someone buys something.
7. Vigilance – Depending on your content and niche, putting up a few pages may supply some traffic to your website. However, adding additional content, videos, or features could keep the traffic flow growing.
The point of having a website is drawing visitors to read your content or purchase goods. Since millions of users browse the Internet regularly, there is a good chance that your niche has interest. Your website could have potential that you don't realize.
About Contributor: Nancy Parker was a professional nanny and she loves to write about wide range of subjects like marketing, entertainment, health, Parenting, Child Care, Babysitting, nanny, www.enannysource.com/ etc.