Tag Archives:
Google Update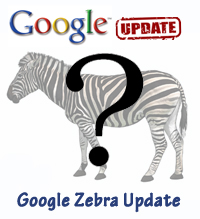 Is there a new algorithm update of Google coming soon? Will Google Officially name it as Google Zebra Update?
Seems Google is now dealing with different animal names for their updates to protect endangered species, including Panda, Penguin, but is it worth enough to consider Zebra as an endangered animal and giving it's name to it's new update.
Or, it is just a rumor spreading all over the internet from yesterday that Google is going to roll out new update with name as "Zebra Update".
Will Google Zebra Hit Social Marketing?
Will it work against spam content?
Will it Wipe All Websites Off From The Web?
Or something else is there in Google's mind?
Recently, a certain search engine's algorithm updates have not been so nice to most of the web. These Agents of G.O.O.G.L.E (yes I'm a Marvel fan!) arrive quietly, then tear relentlessly through the fabric of our very SEO souls! And what makes these updates even more frightening (and creepy) is these kill shots come in the form of cute and cuddly animals. I mean who would be afraid of a cute little Penguin…awe…or that cuddly Panda? And when was last time crowds ran screaming "The Hummingbird is coming…run for your lives!"? Never!